Greg McKeown's "Essentialism: The Disciplined Pursuit of Less" should be mandatory reading for creative workers. 
It's a book that challenges you to say "no" to those things in your life that do not utilize your best skills and talents.
I've written before about the power of saying "no."  "Essentialism", which I first heard about from Michael Hyatt's blog, truly goes deeper into the idea of say "yes" to the right things in life.
Here are three major concepts from the book I'd like to share…
Make sure that you commit your time to something that is worth it.
What are you investing your time in? 
McKewon shares a personal story that changed his way of thinking. He and his wife were expecting the birth of his son. They knew the child would be born through the Cesarian procedure, so a date for the delivery had been set.  
As the birth drew closer, an important client was coming into town on the same day as the delivery.  McKeown's employer suggested it would be very important that he be there to meet them. 
After much pressure, the day of his son's birth arrived. The difficult decision was made to leave his wife and newborn child an hour after he was born. He went to the meeting and immediately regretted his decision. He knew in the grand scheme of things he had made the wrong choice.
It launched him on a path to make decisions that were in line with what was the best for his life.
He devised a decision-making process based on a percentage.
"What percentage does this feel like a right life choice?"
Do I feel like this is 60% correct choice? I know for myself I used to think "60% Well that's more than half, so that must be a good choice."
McKeown, on the other hand, suggests looking at that percentage as if it were a term paper in college.
60% is a D grade at best. And that's a life choice.
Our decisions should be 90% or more. A choice should be something that we would jump out of our seats to do. It has an "A" level of excitement.
(Reminder here: I'm not talking about the decision to take out the trash. Some decisions are necessary whether we want to do them or not. The key concept is that we are not throwing away our time.)
When you say "yes" to something you are saying "no" to something else.
You have a limited amount of time on this planet.
It's not an infinite resource.
Perhaps you'll have 70, 80, or maybe 100 years on this planet.  
We may not always have more time with our spouses, children or family. And some of the "yeses" we agree to if they don't match up with the 90% rule, means that we are take away valuable time from our loved ones and trading them for "D" life choices.
Sometimes we have to say "no" to some good offers, some really good offers and even some really, really, really good offers. 
When we are saying "no" to those things, we are leaving room for the "yes" to the very, very best.
You cannot do everything
Multitasking is just not a true concept.
We find ourselves scattered in so many directions, trying to do some many things.
If you are working on 100 projects at the same time, you only have the ability to give 1/100th of your energy to that project.
Get focused on those projects that utilize your time and energy the best.
McKeown uses this illustration to convey the idea.
When you are doing a million different things your energy is dispersed like this: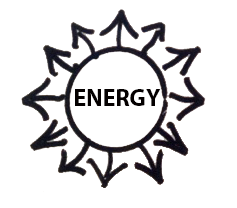 But focus your energy on the one thing you do exceedingly well, here is what the result can be:

These concepts and more will help you focus on what you need to be working on.
I highly recommend that you read "Essentialism" and start taking a look at those things you say "yes" to, because the world needs your talent.