It's something I've seen again and again in the entertainment industry, different areas of business and life.
The idea that you must be young to accomplish meaningful things in life.
If you don't do it when you're young, well, it looks like you've missed out. You're too old. The party's over. The train has left the station. All that's left now is to accept how thing's turned out and trudge on with the rest of your life.
To that I say "No, no and no!"
Let me give you two examples of people who lived their lives fully with purpose until the end.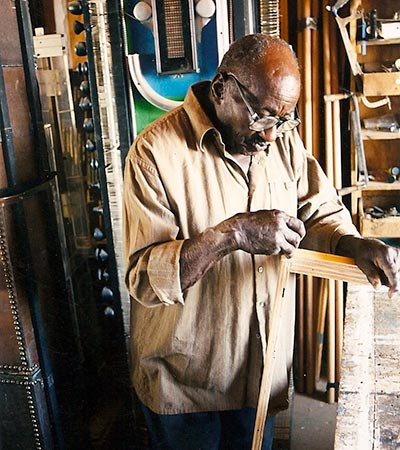 Katharine Drexel and Noah Purifoy.
Katharine Drexel (1858-1955) was heir to the fortune of her investment banker father Francis Anthony Drexel. She was a woman who was drawn to help Native Americans and African Americans in the United States. Her life took two major unexpected turns. The first occurred when both of her parents died leaving her and her two sisters an estate worth $14 million dollars ($400 million in current dollars). The second unexpected turn came when at age 31 she made the decision to not marry and instead enter into religious life as a nun.
Katharine Drexel began a Catholic religious order that used her share of her inheritance to build schools for African American and Native American children throughout the United States. This was a woman who lived her life as a prayer and spent her life and every last portion of her money to help others who were not seen as equals in society.  In 1935 at age 76 while traveling across the country, she suffered a heart attack. Her doctor instructed her that she would have to cut back on her work and change her lifestyle.
For the next twenty years she spent every day of her life praying and writing to those other sisters of her religious order. It was what she described as the most spiritually productive period of her life. At age 96 on March 3, 1955, Katharine Drexel passed away after using her entire life as a work and prayer for others.
Noah Purifoy (1917-2004) was an African-American artist, sculptor and assemblage artist who lived in Los Angeles and Joshua Tree, CA.
Born in Snow Hill, Alabama, he was a veteran in the Armed Forces and eventually made his way out to California where he developed his art. He received his BFA in art when he was 40 years old at what is now Cal Arts.
His work "66 Signs of Neon" caught public attention in 1966 when he used salvaged remains to interpret the Watts Riots that had occurred several months earlier in August 1965. He was one of the co-founders of the Watts Tower Arts Center. He served on the California Arts Council from the late 1970's until late 1980's.  He then moved to Joshua Tree and at age 71 began a prolific work in the desert. Over 15 years until his death at 86 in 2004, Noah Purifoy created nearly a hundred pieces of art on 10 acres of land in Joshua Tree. These included large scale assemblages, environmental sculptures, and installation art. No small feat.
The land is now know as The Noah Purifoy Outdoor Museum. Kate and I saw it on our recent trip to Joshua Tree and it is quite impressive. To think that a man in his 70's and 80's could produce that much work that is driven by his purpose and passion… it is an example for all of us for how we should live.
Both Katharine Drexel and Noah Purifoy remind us that we are not bound by our age. Our work on this earth is not done until we have drawn our last breath. Until that moment, every thought, every conversation, every work that we do is something that can help or inspire others on their journey.
For more information on these inspirational people I would encourage you to watch Bishop Robert Barron's video about Katharine Drexel and visit The Noah Purifoy Foundation website http://www.noahpurifoy.com.
Leave a comment on my Facebook Page to let me know what you thought about these two incredible people.