At a recent conference, Netflix CEO Reed Hastings said that entertainment is changing into something else. According to Hastings, movies and television are the changed versions of opera and literature. He envisions a future where media changes into a product that could be consumed, literally, as a pharmaceutical.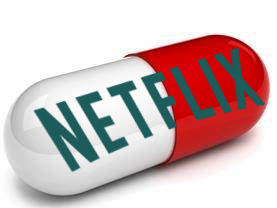 A pill that someone would take in order to experience entertainment.
Yep, it's true. You can see some of his comments here.
I say no.
When I hear a suggestion like that, I have a vision of people not engaging with one another, but instead isolating in a media hallucinogenic trip.
That is not the future. I believe that one of the purposes of art is to reflect the human experience and allow the opportunity for the Divine to speak to us. Art should point us towards working and growing together.
Even media that we might experience on our own (books, music, etc.) gives us the opportunity to talk to other people about our experiences.
Having a chemically altered experience that would manipulate our feelings and possibly drive us away from communicating with each other ("I can't explain it, just take this and you'll know what I mean") is not an end we should be driving towards.
It doesn't surprise me that this idea comes from the man who's company gave birth to the concept of "binge watching".
Be careful. Talk, engage, learn.